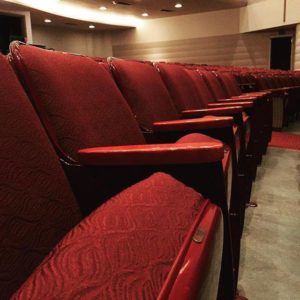 All of our classes are 18 and over only. ADDITIONAL ON-CAMERA, SCREENWRITING, DIRECTING and MORE.
We also offer One on One Scene Feedback- If you have material that you need to practice run through and receive guidance/feedback on, we can help you. Rates are $40 for 30 minutes and $63 for an hour. We will also practice run through your material on-camera and watch back your work. 
Email or call us to schedule. 
The Class Location is 950 N. Cahuenga, 90038 in Hollywood. 
Actor's Artistry is bonded with Great American Insurance (#2218787) as required by California Labor Law.
A class/workshop/showcase/intensive/seminar at the Actor's Artistry is NOT AN OPPORTUNITY FOR AN INTERVIEW OR AUDITION OR REFERRAL FOR EMPLOYMENT OR FOR OBTAINING A TALENT AGENT OR TALENT MANAGEMENT REPRESENTATION.
February 2018
Mon

Monday

Tue

Tuesday

Wed

Wednesday

Thu

Thursday

Fri

Friday

Sat

Saturday

Sun

Sunday

January 29, 2018

5-Agent & Manager Showcases/Intensives 2018! Self Tape Service 9 am to 6 pm!

January 30, 2018

5-Manager Showcase/Intensive Main Event

January 31, 2018

5-Theatrical Agent Showcase/Intensive Main Event

February 1, 2018

5-Agent & Manager Showcases/Intensives 2018! Self Tape Service 9 am to 6 pm! Check page event page for Dates!

February 2, 2018

5-Agent & Manager Showcases/Intensives 2018! Self Tape Service 9 am to 6 pm! Check page event page for Dates!

February 3, 2018

5-Agent & Manager Showcases/Intensives 2018! Self Tape Service 9 am to 6 pm! Check page event page for Dates!

February 4, 2018

5-Agent & Manager Showcases/Intensives 2018! Self Tape Service 9 am to 6 pm! Check page event page for Dates!

February 5, 2018

5-Agent & Manager Showcases/Intensives 2018! Self Tape Service 9 am to 6 pm! Check page event page for Dates!

February 6, 2018

5-Agent & Manager Showcases/Intensives 2018! Self Tape Service 9 am to 6 pm! Check page event page for Dates!

February 7, 2018

5-Agent & Manager Showcases/Intensives 2018! Self Tape Service 9 am to 6 pm! Check page event page for Dates!

February 8, 2018

5-Agent & Manager Showcases/Intensives 2018! Self Tape Service 9 am to 6 pm! Check page event page for Dates!

February 9, 2018

5-Agent & Manager Showcases/Intensives 2018! Self Tape Service 9 am to 6 pm! Check page event page for Dates!

February 10, 2018

5-Agent & Manager Showcases/Intensives 2018! Self Tape Service 9 am to 6 pm! Check page event page for Dates!

February 11, 2018

5-Agent & Manager Showcases/Intensives 2018! Self Tape Service 9 am to 6 pm! Check page event page for Dates!

February 12, 2018

5-Agent & Manager Showcases/Intensives 2018! Self Tape Service 9 am to 6 pm! Check page event page for Dates!

February 13, 2018

5-Agent & Manager Showcases/Intensives 2018! Self Tape Service 9 am to 6 pm! Check page event page for Dates!

February 14, 2018

5-Agent & Manager Showcases/Intensives 2018! Self Tape Service 9 am to 6 pm! Check page event page for Dates!

February 15, 2018

5-Agent & Manager Showcases/Intensives 2018! Self Tape Service 9 am to 6 pm! Check page event page for Dates!

February 16, 2018

5-Agent & Manager Showcases/Intensives 2018! Self Tape Service 9 am to 6 pm! Check page event page for Dates!

February 17, 2018

5-Agent & Manager Showcases/Intensives 2018! Self Tape Service 9 am to 6 pm! Check page event page for Dates!

February 18, 2018

5-Agent & Manager Showcases/Intensives 2018! Self Tape Service 9 am to 6 pm! Check page event page for Dates!

February 19, 2018

5-Agent & Manager Showcases/Intensives 2018! Self Tape Service 9 am to 6 pm! Check page event page for Dates!

February 20, 2018

5-Agent & Manager Showcases/Intensives 2018! Self Tape Service 9 am to 6 pm! Check page event page for Dates!

February 21, 2018

February 22, 2018

February 23, 2018

February 24, 2018

February 25, 2018

February 26, 2018

February 27, 2018

5-Agent Showcase/Intensive Main Event

February 28, 2018

5-Manager Showcase/Intensive Main Event

March 1, 2018

March 2, 2018

March 3, 2018

March 4, 2018