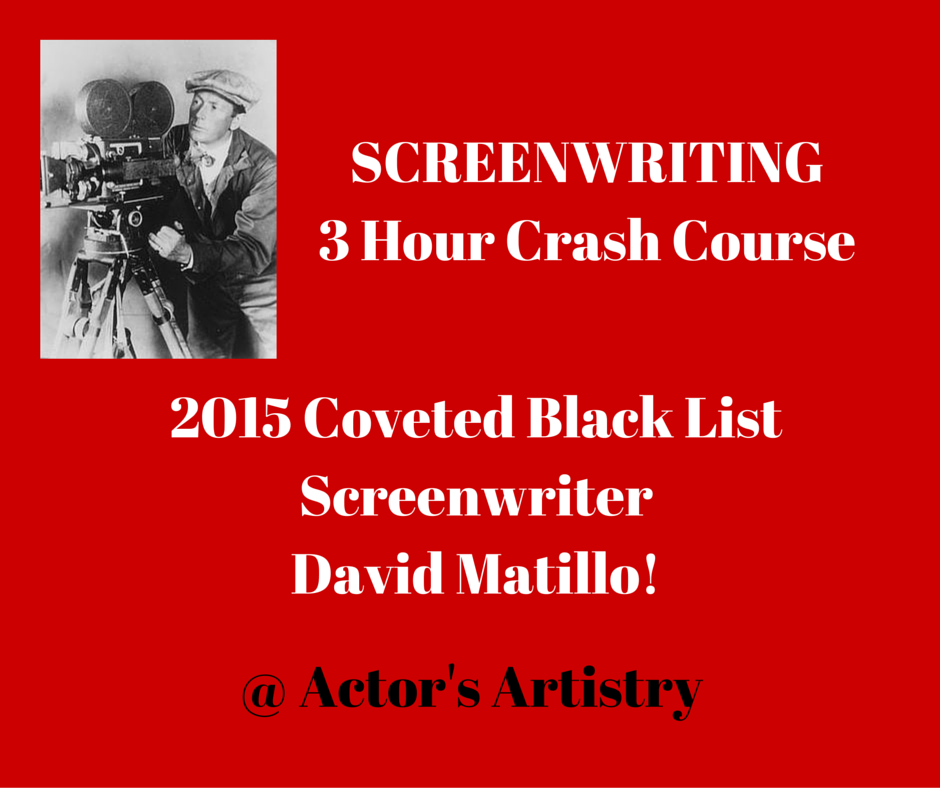 Want to Learn about Screenwriting from a working Screenwriter currently in the business?
Our Guest Instructor is Writer David Matillo! 
David Matillo moved from Indianapolis to Los Angeles in 2006 to pursue a career in acting, but when he sat down to write his first screenplay in 2008 there was no turning back. His script Bare Knuckle was on the coveted 2015 Blacklist of best unproduced screenplays. Oscar nominated director Mikael Hafstrom has just come on board to direct. David has most recently sold a pitch to Warner Bros with New Regency(The Revenant, The Big Short) producing. He has several projects in development with the industries top companies including Original Film(Fast and Furious franchise) Weed Road(I am Legend, Lone Survivor) and Hollywood Gang(300, The Departed). He is repped by William Morris Endeavor and Madhouse Ent. 
This is an exclusive class at Actor's Artistry only!

 David Matillo Screenwriter
Limited Seats!
Next available Class:  Tuesday May 31, 7 pm 
Some of the topics covered in this class include:
Process of writing a script. How to be most efficient from concept to outline to finished product. 
Practical issues to focus on during rewrites.
From friends to producers to directors. Who should be reading your finished script and how to get them to do it. 
How to get representation and what they really do. 
Selling a script vs building a career. 
Questions and Answers!
We expect this to fill up, as there are limited seats available.  Get in Early to Reserve a space!
*There is a 48 hour Prior to the event Cancellation Policy for Credit Only